Celebrating 10 years of cooperation at EU external borders
Trekking, cycling, running, painting, communicating, photo orienteering – no matter what we do, as long as we do it TOGETHER. For the past 10 years this has been the underlying idea of the European Cooperation Day: this year over 40 in-person, online and hybrid events were organised by ENI CBC programmes to show to the citizens on both sides of the EU external borders how many positives things can come out when they are done together.
2021 is a very special year since it marks the 10th anniversary of the European Cooperation Day. Let's see how ENI CBC programmes have celebrated it!
The pleasure of being back together: walks, orienteering and games
From 18 to 25 September, together with Interreg and URBACT programmes, Latvia-Russia invited local citizens and visitors to explore five Latvian cross-border cities – Jelgava Cesis, Rezekne, Riga and Kuldiga – as well as amazing Interreg projects in a rally of photo orienteering games. Over a hundred teams enjoyed a good walk, an intriguing puzzle and wonderful gifts to keep warm memories of meeting the impressive results of project work. Take a look how exciting it was:
The celebrations continued on 25 and 26 September in Pavlovsk Park of St. Petersburg and Pskov (Russia) with quest games based on the ideas and results of the projects '630 Versts Full of Feelings', 'LV-RU Heritage' and 'Shaping Cities'. The players got a chance to reveal the wisdom of cooperation and look at the well-known landmarks from a new angle.
Bike rides, picnics and competitions
Poland-Russia welcomed local citizens to the bike rides along the paths built with the programme support. Several hundred participants in Zelenogradsk, Russia (11 September), Giżycko, Poland (17-19 September), Sovetsk, Russia (25 September) and Szczytno, Poland (25 September) covered the overall distance of over 100 km and enjoyed family picnics, quizzes, quests, competitions and much more!
Trekking tours along the rivers
Healthy lifestyle and closeness to nature set the mood for the EC Day celebrations in Lithuania-Russia. On 4 September the trekking tour in Birštonas (Lithuania) organised in cooperation with Interreg and UBRBACT programmes, gathered families, friends, colleagues, neighbours and even pets for a 14-km walk in the forest of Nemunas Loops regional park along the Nemunas River. It was a great fun: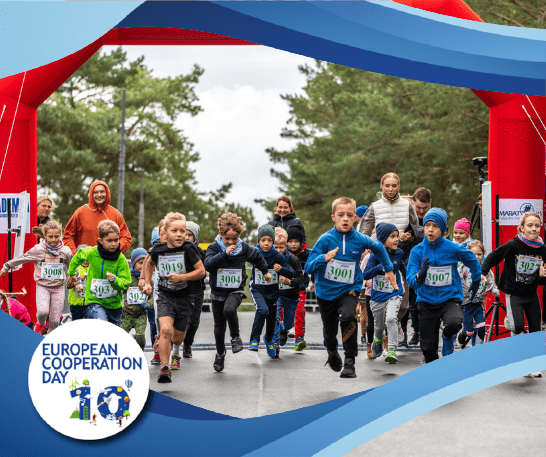 And even children running for cooperation
Another event – the traditional European Cooperation Run in Nida – gathered on 25 September over 100 children andyouth for the fourth time. The young runners enjoyed sunny and cool weather and at the end of the run they were all awarded with wonderful programme goody bags.
The youth learning to communicate
School children were the protagonists of the Educational Campaign for Schools traditionally dedicated by Poland-Belarus-Ukraine to the European Cooperation Day. The 2021 edition "Youth Voices of PBU" focused on communicating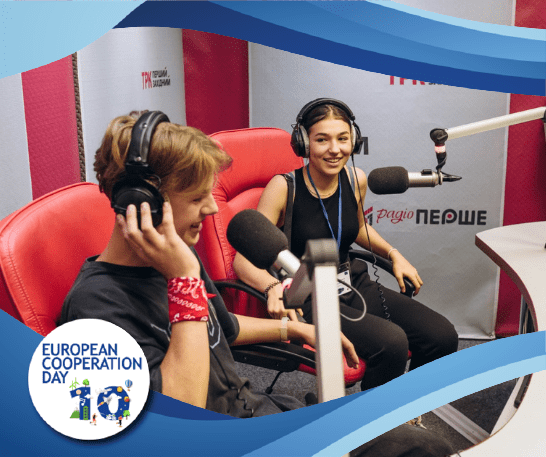 messages through multiple channels (graphic, audio-visual, media tools). On 22-25 September, 24 school teams from the three countries took part in the mirror events in Tomaszów Lubelski (Poland), Brest (Belarus) and Lviv (Ukraine) to master different communication tools: interpersonal communication, presentation skills, the basics of journalism and social media, creating a strong visual message through graphic design, as well as writing and performing rap.
Cooperation brunches with journalists
Romania-Ukraine's EC Day campaign "Projects without Borders. Romania – Ukraine" showcased the results of the funded projects and their positive impact on the life of the border citizens. 63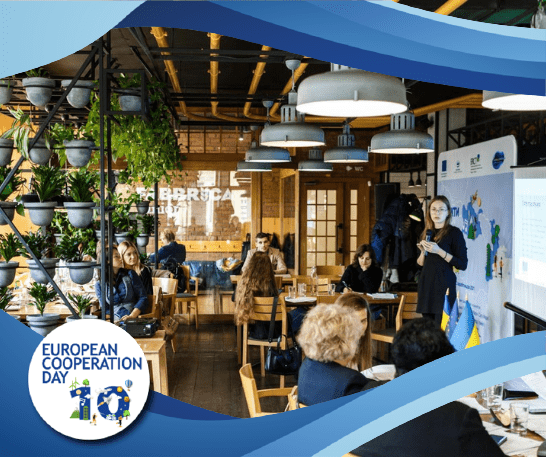 journalists and over 250 participants joined the friendly and informal cooperation brunches from 21 September to 15 October in Suceava, Botoșani, Tulcea, Baia Mare, Satu Mare (Romania) and Chernivtsi, Ivano-Frankivsk, Zakarpattya, Izmail (Ukraine) which received a great media support in both Romania and Ukraine.
Children painting in the park
A big EC Day event took place on 25 September in the "Alunelul" park of Chisinau (the Republic of Moldova): a bike race, exhibition of special equipment and children's painting and many other interesting activities were prepared for local citizens by Romania – Republic of Moldova:
Meeting each other on a virtual bridge
For the second time, a video bridge connected the participants of the hybrid EC Day events in the Estonian Narva and the Russian St. Petersburg.  On 21 September, Estonia-Russia organised two parallel events for over 80 project partners and stakeholders under the slogan "Cooperation Bridging Capitalization – another look on CBC". Presentation of project achievements, insights on new opportunities for cross border cooperation through capitalization, an interactive EC Day quiz and music performance are worth watching again. Enjoy:
Joining celebrations from wherever you are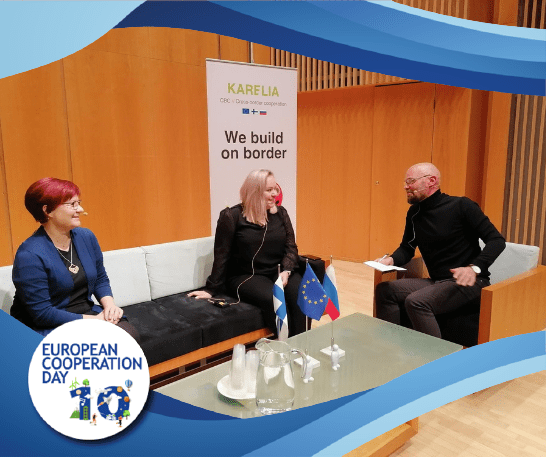 An online broadcast with Karelia programme director Marko Ruokangas with live coverage from project sites of Puolanka wastewater plant and Vartius border crossing point could be followed on 8 October from any home. And a dedicated quiz can help one test own knowledge on the programme (try it in Finnish or Russian)
Black Sea Basin launched a dedicated Projects PHOTO contest to capture the best moments of cooperation and feature inspiring images around the Black Sea basin, while Hungary-Slovenia-Romania-Ukraine invited its beneficiaries to the online video contest "Celebrating European cooperation" through submitting short and creative videos with ongoing or finalised project activities.
A great variety of activities, lots of smiles, fun and positive emotions. This is the European Cooperation Day! Find more at www.ecday.eu