Cross-border cooperation brings a positive change to the lives of youth living along the EU external borders
Youth were a cross-cutting issue on the agenda of the European Week of Regions and Cities which took place in Brussels on 8-11 October. "Young people have to play a role in the regions" underlined Pavel Telicka, Vice-President of the European Parliament, during the closing session. And this statement truly reflected the spirit of the workshop "Bringing together youth along the external borders of the European Union" organised by DG NEAR in cooperation with TESIM on 11 October. The invited young speakers showcased how cross-border cooperation helped them become actors of positive change in their regions.
CBC prospective to common challenges

Young people living in the ENPI/ENI CBC areas share the same challenges as elsewhere in the European Union. Youth unemployment remains one of the key challenges on both sides of the border, be it North, East or South of Europe.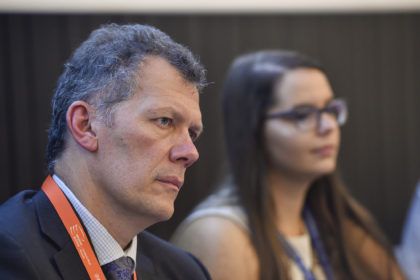 "The solution would not suffice acting only on national or regional level, that is why cross-border cooperation takes on here great importance," – underlined Mathieu Bousquet, Head of Unit within DG NEAR.
Youth that make a change
How does cross-border cooperation support youth in addressing this common challenge? The answers were given during the workshop by the young people themselves. Jafar Albadarneh and Nikolett Pleser, final beneficiaries of projects from such different realities as Finland and Jordan, brought in the stories of their success.
Nikolett Pleser, a business student from Finland, shared her experience of working in InnoBarentsLab (IBL), a support system for aspiring young business people in the Barents region. IBL was developed and piloted within the Young Innovative Entrepreneurs project, financed by the Kolarctic CBC programme 2007-2013, aimed at making the Barents region more attractive for young entrepreneurs.
The InnoBarentsLab is successfully operating in more than 20 events which give a possibility for hundreds of young people from various EU and non-EU countries to learn about entrepreneurship, innovation and business opportunities, expand their professional networks, exchange ideas and opinions and meet stakeholders and decision-makers.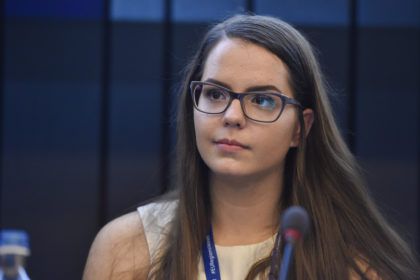 "In our region it is really important to put emphasis on a west to east cross-border cooperation, because even if our languages are different the problems we are facing are very similar. In my opinion, any kind of initiative which supports entrepreneurship or business development in a CBC context should be encouraged."
A different background but similar challenges encountered by Jafar Albadarneh, a young startupper from Jordan. Being a university undergraduate, he was offered an opportunity to work in the "Intermational Augmented Med" project, funded by the Mediterranean Sea Basin CBC Programme 2007-2013, which focused on the application of innovative multimedia technologies in the management of cultural and natural heritage. Capitalising on the gained experience and expertise in the cutting-edge augmented reality, he launched his own start-up ARTour, bearing in mind a cross-border dimension of the underlying efforts.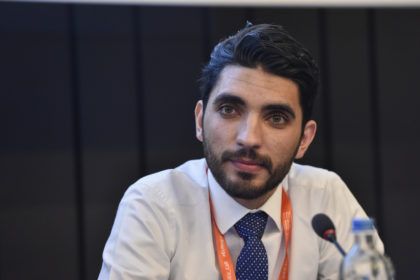 I think a programme of cooperation among the countries of the Mediterranean Sea Basin region like the ENPI CBC Med can make a difference for the young generation. Projects like I AM, might create opportunities for entrepreneurs to learn new skills, get business trainings or even provide funding opportunities for start-ups to be able to expand their businesses and have access to the Mediterranean market."
Un-building borders
Physical borders are often perceived as the main constrain for cooperation, but sometimes mental borders are the ones which result more difficult to overcome. This fact was well acknowledged by the Poland-Belarus-Ukraine CBC programme, which from 2013 onwards has been promoting the Educational campaign for schools initiative. Thanks to it, hundreds of teenagers from Belarus, Poland and Ukraine gather around cultural events to get to know each other and understand the cross-border regions they are living in.  Olena Zubrytska, communication expert of the Programme's branch office in Lviv (Ukraine), shared her experience on how a cross-border cooperation programme can succeed in erasing mental borders among youth through a joint work.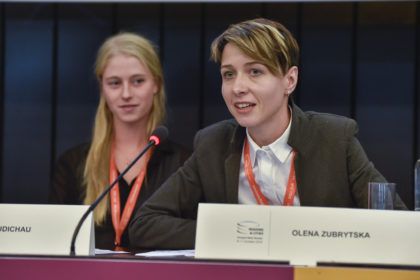 "Young people are attracted by the new and unknown. Still, the fact is that they know very little of each other and their opinion is formed by stereotypes. The stereotypes are their "borders". Our campaign gives teenagers a chance to meet their peers from other countries and make their own opinion about them.  Also, nothing unites more than working together on common challenges. This is the idea of cross-border projects, but this is also true about our school campaign."
Breaking stereotypes about borders is more than crucial for the youngsters living in the heart of Europe too. That is why in September 2017 DG NEAR, with the assistance of TESIM, supported an activity with a Brussels-based communication school (IHECS) and the Center for fine arts (BOZAR). Twelve students and three teachers travelled to three different borders: Latvia-Russia, Poland-Ukraine, and Italy-Tunisia. They came back with a documentary, an exhibition and a different perception of a cross-border reality. Lola Baudichau, one of the students who travelled to Eastern Europe, shared her impressions.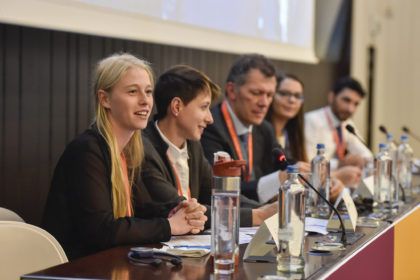 "My journey was really rich in experiences but also rich on the human level thanks to all the people we met. It made me realize how lucky I was to live in a place where physical borders are not an issue but at the same time how mental borders were more of a problem in the EU and especially now. It also made me realize the double standard of our crossing being so easy while it is still very difficult for non-Europeans to do so."
The documentary and the exhibition stand based on the journey were presented by the IHECS students to over a hundred of Agora visitors during the event from Monday 8 October until Thursday 11. We thank our visitors for the questions, opinions, discussions and messages about the borders during the four amazing days.
Thank you for joining us at the European Week of Regions and Cities!