Discovering lessons learnt and ways forward in Tallinn: the annual ENPI/ENI CBC conference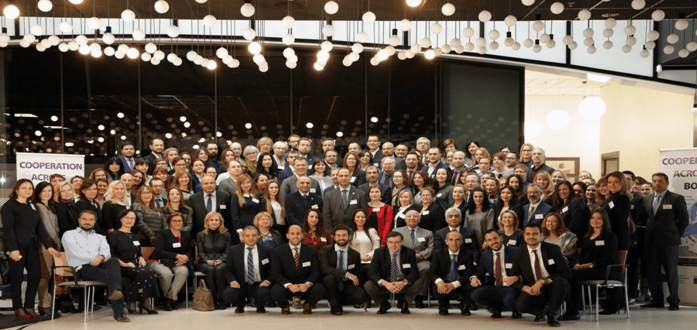 What lessons can be drawn from the ex-post evaluation of ENPI CBC programmes? How can their results be efficiently used in order to have better impact and visibility? Where do ENI CBC programmes 2014-2020 stand after a first year in full swing? Which are the main challenges ahead?
As the year 2017 closes, answers were sought to these questions and more in Tallinn, Estonia, on 30 November on the occasion of the ENPI/ENI CBC annual conference. Over 120 representatives from 15 ENI CBC programmes including delegations from most of the participating countries, gathered along with the European Commission and the European External Action Service. Different programme bodies were present from Joint Technical Secretariats (JTS) and Branch Offices to Managing and National Authorities. These members of the CBC family came from both Member States and CBC Partner Countries.

The ex-post evaluation provided a good insight into just how much was achieved during 2007 – 2013 and how to build on this to go further until 2020 and beyond. Some key recommendations included a more specific focus on CBC and its impact, seeking more synergies with other EU instruments and policies, improving programme ownership, relevance and efficiency as well as programme monitoring and evaluation. To help with this and build on what has been achieved, capitalisation within ENI CBC could provide a more thematic focus while at the same time allowing for synergies both within ENI CBC and with the Interreg programmes. These challenges will surely be addressed over the coming years by the programmes. In the meantime, programmes progress satisfactorily and 11 of them have launched their first calls for proposals, gathering once again a very high interest from the eligible organisations in border regions. At the time of the conference, 1.670 applications for funding have already been received! And, most important, these applications cover on a sound basis all themes addressed by the programmes' strategies. In fact, and as expressed by the European External Action Service, even if many substantial changes have intervened in the political context, the ENI CBC strategy identified in the Programming Document is still relevant. Many things can be made in order to improve it, but they can be tackled when identifying the core needs for a post-2020 vision.
But the event in Tallinn provided much more than a presentation of lessons learnt. It also served as a moment in time to celebrate the growing CBC family and all its achievements. This was best served by the visit on 29 November to the Narva-Ivangorod fortress, the restoration of which was funded under the Estonia-Latvia-Russia ENPI CBC Programme and continues under Estonia-Russia CBC, as well as the exhibition in place outside the conference room. Both of these served to highlight the opportunities that CBC represents for different levels: final beneficiaries, project partners, programme practitioners and young students who are far removed from the external borders of the EU. The exhibition showcased the target groups already reached with CBC and the future potential of more and different audiences.
Now the real challenge is ahead. And we all need to think how these incredible stories can strengthen the instrument. We must work on the impact that ENI CBC represents on these EU's external borders. So that each individual character feeds a much more global story, visible in Europe and in the neighbouring countries.