ENI CBC IN MOTION: March 2019
Now that the managing structures are set up and the majority of the calls for proposals are closed, one important phase in the lifecycle of ENI CBC programmes will terminate. But this is actually now that the real life begins. The programmes are moving at full-speed to managing projects so that concrete actions of ENI CBC can be revealed on the ground.
Meeting local actors
Cross-border cooperation brings first tangible results positively impacting the lives of border population from Finland to the Black Sea.  Saying so, we have in mind 174 projects selected in calls for proposals that are currently running in seven ENI CBC programmes – Karelia, South-East Finland Russia, Kolarctic, Black Sea Basin, Estonia-Russia, Latvia-Lithuania-Belarus and Poland-Belarus-Ukraine.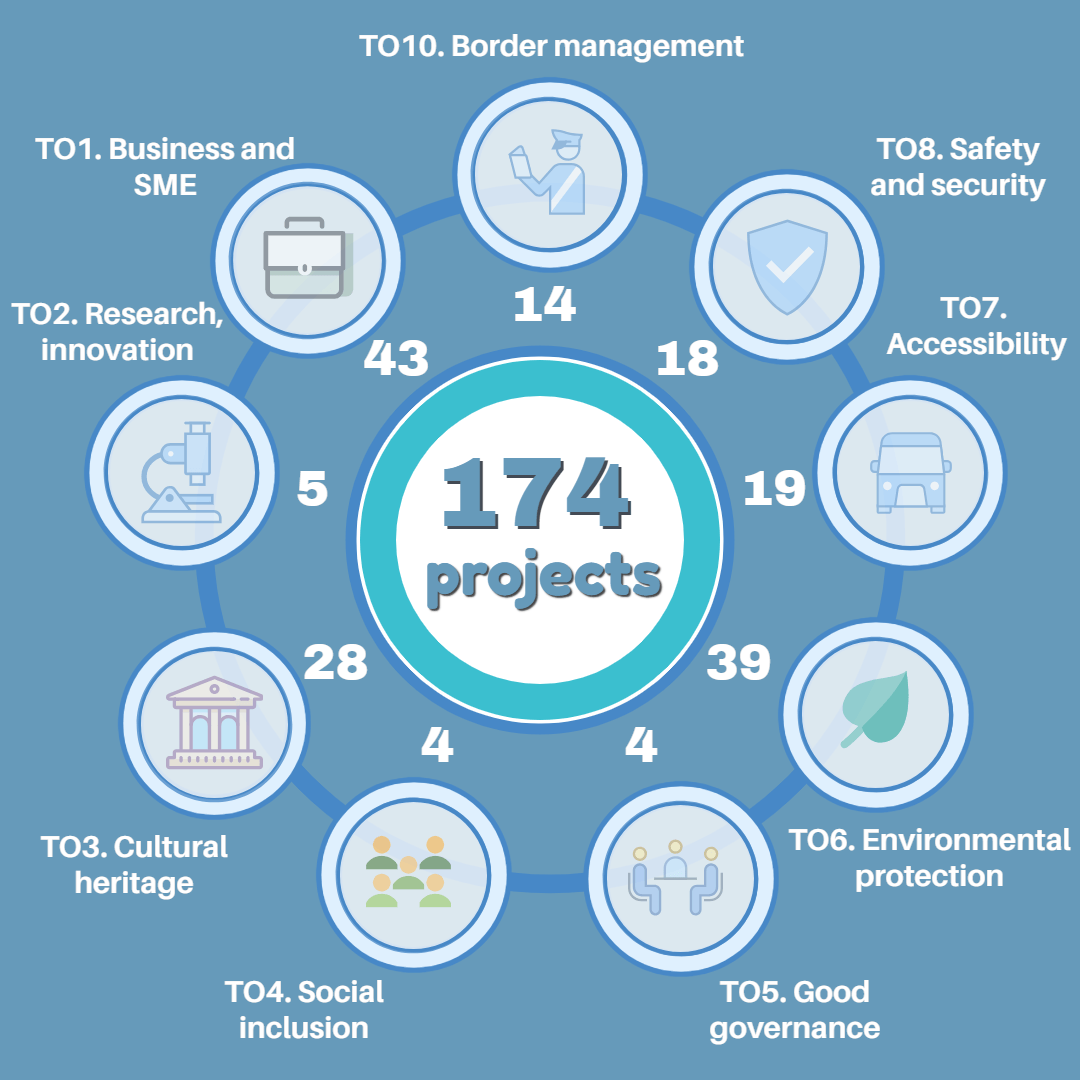 The on-going projects contribute to the development of cross-border regions in various fields, ranging from entrepreneurship to border management. Sustainable economic development has been recognised as a priority for cross-border cooperation by many beneficiaries, resulting in the highest number of initiatives (43) under the thematic objective "Business and SME development". These projects aim to stimulate cross-border business cooperation and trade between Member States and Partner Countries, strengthen business opportunities in wood construction, create new products and services in the field of cultural tourism, increase cooperation in forest and agricultural sectors, reinforce capacities of youth entrepreneurs and many more.
Another most prioritised field of cooperation among project practitioners is "Environmental protection, climate change mitigation and adaptation".  39 running partnerships aim to improve environmental monitoring, ensure integrated water resource management and efficient water use, preserve cross-border forest and waterbodies biodiversity, raise public awareness on reduction of marine and river litter, etc.
With so many projects under implementation, support to beneficiaries is on the agenda for many ENI CBC programmes this year. A recent example – the new versions of manuals for beneficiaries made available on the websites of Karelia, South-East Finland Russia and Black Sea Basin. Furthermore, this month Estonia-Russia is organising a series of trainings for beneficiaries on financial obligations, procurement rules and visibility requirements in Tartu (Estonia), Pskov and Saint Petersburg (Russia) with a possibility of individual consultations. Likewise, South-East Finland Russia will hold in April consultation days for the on-going projects. Face-to-face meetings with the beneficiaries will take place on 2 and 3 April in Lappeenranta (Finland) and on 9 and 10 April in St. Petersburg.
Focus on large investments
Additionally, 17 large infrastructure projects (LIPs), worth of more than 95 million €, are well under implementation in 4 programmes. 7 LIPs will improve road, rail and sea port border-crossing infrastructure on Karelia, South-East Finland Russia and Poland-Belarus-Ukraine programme territories. 5 LIPs will contribute to a better road connection between Finland and Russia, Poland, Belarus and Ukraine. 4 investment projects aim to prevent diseases and crease dynamic response systems to crime and emergency situations in the cross-border regions of Poland-Belarus-Ukraine. One project will deal with modernisation of water supply system in Sortavala (Russia). Whereas first actions have been taken under the LIPs in progress, 36 are still in the preparatory phase to signing the contracts.
New CBC initiatives and opportunities arriving
In parallel with guidance and monitoring of projects implementation, ENI CBC programmes have not yet exhausted their full funding potential and continue to be actively involved in the management of calls for proposals.
Karelia has finalised the last calls on 12 March, with 33 full application forms received requesting 13,8 million €. The evaluation of the applications will continue until June, when the selected projects will be confirmed at the meeting of the Joint Monitoring Committee.
A new call for strategic projects will be launched by Mediterranean Sea Basin in the second half of March. The call will be open to 7 (out of 11) programme priorities among which support to innovative start-ups, to technological transfer and commercialisation of research results, to innovative and technological solutions for efficient water and waste management, to cost-effective and innovative energy rehabilitations in buildings, etc. Strategic projects will foster policy-relevant innovations that have long-lasting and far-reaching effects. The call will be supported by a series of information events in all participating countries.
More calls are expected to start by the middle of this year…But let's keep it for our next issues.
And for the moment…enjoy the spring – a promising period for change, action and, of course, cooperation!  Keep an eye on the developments in the ENI CBC community through our social media channels and subscribe to our monthly bulletin.