ENI CBC PANORAMA – December 2018
An outstanding response of regional and local actors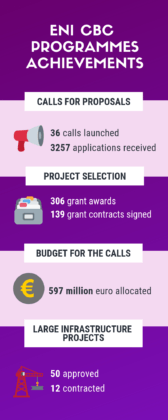 From the beginning of this programming period, substantial efforts have been made by the 15 ENI CBC programmes in order to let the main protagonists – the projects – enter the stage. 36 calls for proposals, with a total budget of over €597 million, have been already launched. 9 additional calls will be launched between 2019 and 2021, 7 of them already next year. You already know that the response so far has been a huge success: 3,257 applications received, requesting almost five times the available allocations! Such success should be attributed to the well-planned activities of the programmes, including 200 information and project preparation events for potential applicants organised from 2016 onwards. At its turn, TESIM has supported 67 capacity building workshops and partner search fora across nearly all programmes, 41 of them in 2018 alone, with an outreach of more than 2.000 people. The applications submitted have resulted in 306 awarded projects, half of which have already started implementation this autumn. And TESIM continues its support also after contracts are signed: 6 capacity building events delivered by TESIM experts this year have reached 228 project practitioners, mostly from CBC Partner Countries. Implementation has also started for 12 large infrastructure projects, while the remaining 38 steadily progress and should be all contracted in the coming months. In this particular field, TESIM has been engaged through the organisation of 2 LabGroups for programmes and supporting 5 trainings for applicants.
Solid management foundations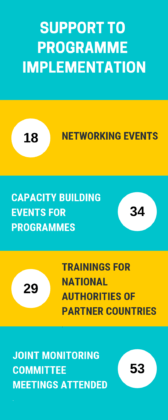 The success in reaching eligible actors and receiving such an impressive amount of proposals has been built on lots of backstage action. The ENI CBC programmes have worked hard indeed to ensure that the conditions allowing a smooth start of projects implementation were met.
As a result, Financing Agreements have been signed and ratified with all Partner Countries, and nearly all programmes have finalised their designation procedures, established Control Contact Points in the participating countries and set the Groups of auditors.
And what has TESIM done to support the programmes in their daily work since the very start? Networking platforms, tailor-made services and capacity building events for all types of programme and national bodies are the key resources for this support, but this is just the tip of the iceberg.
At the basis, TESIM has developed around 40 information tools on many different topics (such as State aid, procurement, audit and reporting), which can be found in our Library section.
Enhanced communication and visibility
Programme and project management would never be complete without an efficient communication. Not only it assists programmes in reaching potential applicants and contributes to the success of the calls, but also ensures that the Instrument becomes recognisable among citizens, both of the European Union and Partner Countries, and the positive changes it brings to border regions are acknowledged. Within this overall framework, a growing digital presence of the programmes is contributing to enhance the online visibility of ENI CBC, whose social media channels have attracted so far more than 19.000 followers!
We have largely presented to you along the year the core activities through which TESIM contributes to spreading the word on ENI CBC, in particular those that have targeted audiences in Brussels, such as "Next generation, Please" and the European Week of Regions and Cities. Our efforts to federate the ENI CBC programmes and showcase their achievements will continue in 2019 and beyond. But nothing compares to joining efforts, as is the case of the European Cooperation Day initiative. Launched in 2012, it has become increasingly popular within the ENI CBC community, leading to a record participation of twelve programmes this year! All in all, the 51 local events organised in the EU and in Partner Countries attracted around 20.000 citizens.
Ongoing innovation
Capitalisation, clustering and innovation are the key words for the current period. A good example which combines of all of them are the meetings of the Northern Cluster, aimed at supporting the implementation of the programmes cooperating with Russia. Two meetings have been organised with TESIM support in 2017 and 2018 and the intention is that of extending this approach to other geographical areas.
Capitalisation activities have been initiated by several programmes and TESIM will closely accompany the process. On a cross-programme level, it will further develop capitalisation tools both for  programmes and projects. On top of this, TESIM experts will issue thematic publications focused on results of old and new funded projects. On a cross-strand level, TESIM will continue its collaboration with the Interact programme in order to adapt the already available tools to ENI CBC specificities.
Talking about innovative tools, we cannot but mention our online learning platform GOforENICBC, which was launched last autumn to support applicants and beneficiaries of the ENI CBC programmes in project development and implementation. So far 43 video tutorials and 242 supporting documents have been uploaded in up to nine languages. The channel is proving to be very successful, with 4,800 visits to the platform and over 18,000 page visits. Visitors to the platform come from over 450 cities from all participating countries, with organisations from Turkey, Ukraine, Lithuania, Russia and Romania being amongst the most frequent users.
An exciting future
During 2019 we will start enjoying the results on the ground of all the extensive work carried out so far, with the projects already approved gradually delivering and bringing a positive change to the populations living on both sides of the EU's external borders. New projects will join the ranks and further contribute to this common aim of the ENI CBC community. Programmes will guarantee that this is all made in the most efficient manner and will make all efforts possible so that the achievements are visible, transferable and sustainable. And, in this general picture, TESIM experts will continue their support with the same engagement that has guided them during the last three years.
Of course, we all know that 2019 will also see the launch of the programming process post-2020. Neighbourhood cross-border cooperation programmes will further align with their Interreg homologues, which may prove challenging. But we are all ready for it!