From grape waste to anti-aging creams
What to do with grape waste? Can wine-litter become a resource, and eventually be turned into cosmetics? An EU-funded project is working to make it happen, with the final goal to create work opportunities in countries stricken by economic crises. It is called BESTMEDGRAPE, and it's a project implemented by Italy, Tunisia, France, Lebanon and Jordan, under the Mediterranean Sea Basin ENI CBC Programme.  

From trash into resource, from litter into health or beauty products, conquering new markets and creating jobs for work-hungry youth. It's happening today thanks to the joint efforts of scientists, technicians, and business trainers established on both sides of the Mediterranean Sea.  In this area of the world, grapes have been a prosperous crop for millennia, but people working in the sector have generally been focused on improving the quality of wine. Now the challenge is to make the most out of grape-by products.  Because the antioxidant properties of leaves, pomaces, grape-waste have been known for ages, but today technology allows a transfer of knowledge able to create new pharmaceutical commodities. The key word is: nanotechnology. The project is BESTMEDGRAPE, implemented under the Mediterranean Sea Basin ENI CBC Programme.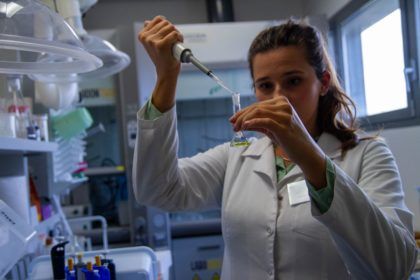 "Our first step is completing the research about the bioactive compounds found in wine-by products, studying the development of antioxidants and anti-degenerative formulations out of them," – explains Gianluigi Bacchetta, professor at Cagliari University and project Coordinator. "We work at micro-level: micro particles are nano-incapsulated offering better opportunities of exploitation. Then we transfer this knowledge into manufactured goods".
Let's take for example antioxidant principles: scientists are studying how to transfer them into ingestible anti-neoplasia capsules, but also into skin anti-aging cosmetical formulations for topical use.  Hence, the project is not only valorising a Mediterranean excellence such as the grape, but also the expansion of the grape value-chain through the development of nanotechnological products. And then?
The next step is the establishment of new companies operating in the commercialisation of grape derivatives. "We will select 150 potential entrepreneurs, 30 for each of the 5 participating countries – continues Bacchetta – and we will target mostly youth and women to favour not only economic development, but also social inclusion". The group will enter University laboratories and will be trained directly on the spot, through a new methodology based on little theory and a lot of practice, learning to turn pomaces into creams, but also to stay afloat on the market. And there is more.
A "scholarship" is ready for the best 10 out of each group – 50 in all – to start them up in business: and for those who succeed in creating a company, more funds are available. "Actually, – continues the coordinator – one of our partners, CREA, is specialised as business incubator, and the majority of our budget is dedicated to the creation of small enterprises".  Which makes this project unusual: not only because of the scientific value of the research – a sustainable exploitation of winemaking-waste to obtain nanotechnological products for human health – but for the overall aim to train business people both in science and marketing, boosting local economy while supporting social inclusion.
Finally, the environmental impact of the initiative: winemaking generates large quantities of pollutants, and turning them into valuable resources is a powerful incentive for recycling. The project contributes also to the preservation of Mediterranean biodiversity, as some grape cultivars might be better antioxidants than other, but not necessarily the ones that the market would promote for winemaking. Now, there is an additional reason to keep them growing.
Find out more: http://www.enicbcmed.eu/projects/bestmedgrape
---
---
---