Hand-baking to enjoy the traditional craft
"Our task is to create reasons to visit the Carpathian region. We do not just want to preserve elements of national culture, we want to package them nicely and present them as a tourist product, which can be sold by tourist operators."
Lada Malanii, lead beneficiary marketing manager (Ukraine)
How many weeks are in a year? 52. That's where the idea of the project's name – and its shape – came  from: to produce 52 traditional-life packages for tourists, one for each weekend. So that guests could ideally visit the Carpathian region all year long and never get bored. Always finding new experiences and opportunities to discover.
As times goes by, the traditional lifestyle of Carpathian peoples is gradually disappearing; at the same time, when it comes to the local economy, local cultures are heavily underestimated as a source of development. Additionally, despite the presence of many interesting sites, many Carpathian areas are still relatively unknown as tourist destinations. "Our project, called 52 Carpathian Lifestyle Experiences, helps people to discover the region and to enjoy its local traditions" says Daniela Culic, general director of Satu Mare Chamber of Commerce, a project partner. "This project is unique – she continues – because ENI CBC brought together four countries with equal participation".
The overall objective of the initiative is to increase tourist visits, to create new income opportunities for cross-border communities, and to promote a unique tourism experience based on traditional cultures and lifestyles as part of the Living Heritage Carpathian Destination. "We do not want to attract crowds – says Lada Malanii, marketing manager of the lead beneficiary – we aim at appealing to a small number of well-off tourists who are interested in the intangible heritage of the region. Those people may even become investors in this type of business in the future."
Only 5% of the 2.5 million people involved in rural regional activities is active in tourism and employment in agriculture continues to decline: these limited work opportunities result in the depopulation of the territory. As young people leave, losing ties and compromising the transmission of heritage, the cross-border area is experiencing a rapidly ageing population. To reverse this trend, natural and cultural heritage must be creatively integrated into business practices.
The participants of the project are small family businesses, owners of homesteads, individuals engaged in traditional agriculture, food production and craft activities, mainly in remote rural regions. They are the bearers of local heritage traditions, and they are mostly residents of remote rural communities in the border regions. Their daily life, their actions and stories are the basis of the new touristic experience. "For example – continues Malanii – the completion of mowing grass used to be accompanied by a traditional dance. Now there is no old-fashion mowing, so traditional dances have been forgotten". "Satu Mare is an extremely poor part of Romania – says Culic – Many people who do craft-work in the region do not know how to promote it: this project is helping them to earn money from the routine life they experience every day."
These intangible cultural resources are turned into commercial products and put on the market: in this  way they generate additional income, which motivates communities even more to preserve craft practices, skills, products, etc. Each package-tour is unique, they are designed with traditional working culture and rural lifestyles in mind, focusing on local knowledge and production skills, performing arts, social practices, festive events, etc. For example, the tour "Journey for Organic Tea Herbs and Embroidery Ornaments" offers to the participants basic skills in Spassky embroidery, then people listen to stories about it, then get acquainted with organic tea production and have a short course in herbalism at the museum. Afterwards, they can relax at the apiary and try making a beehive themselves.
The outcome of the project is a unique all year-round offer for "cultural gourmets", providing heritage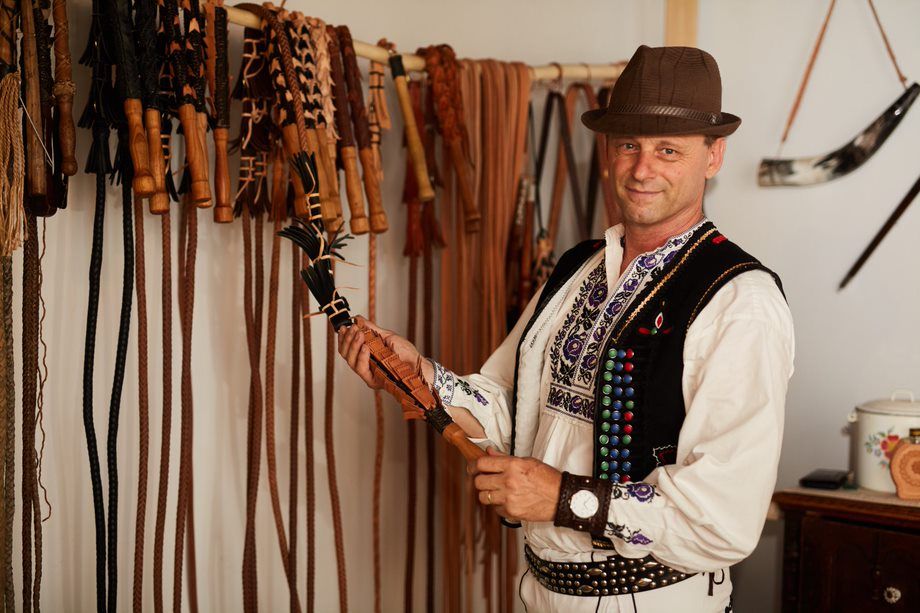 preservation as well as new livelihood opportunities for local people, young ones included. "We have actually unlocked the potential of our beneficiaries for the local tourism", adds Oksana Fedorovych, another representative of the lead beneficiary. Even modern technologies are used, namely an online museum of traditional Carpathian craft cultures, and a virtual guide to Carpathian Living Heritage. A series of short videos has also been produced, describing the stories of bakers, herders, cheesemakers, crafters, and others. "The project will have a great capitalisation – says Daniela Culic – It will be promoted through TV channels and other sources, and all the information about the tourist packages will be available online. Other people can use the results of the project and develop their own tourist products."
The project has helped to establish cooperation between different institutions, chambers of commerce and tourist associations. New partners were met: these are relations which will be continued beyond the project's life. Unfortunately, during its implementation, it was discovered that many crafts are already  effectively dead, and perhaps a separate catalogue will be created for them. Let's hope that the 52 packages will not let go off any other tradition or skill of the Carpathian Living Heritage.
---
---
---