Voices from the field
Dmitrii Motorin
"Here my discoveries on oil spills"
He is not a "beneficiary": he's a young cooperation actor, contributing to the discovery of solutions to improve people life and to foster progress across the European external borders. Dmitrii Motorin, 31, is a Russian researcher working for the CBC project OneDrop, under the South-East Finland-Russia programme. The initiative is developing a real break-through, a new concept of water purification based on ferrate oxidation techniques: a solution cheaper and safer for the environment, compared to other traditional methods. The involvement of Dmitrii in the project was pivotal. He was entrusted to study the application of ferrate oxidation to a very practical field, the automatization of oil spills cleaning. And he is coming up with extraordinary results, which are leading to a second cooperation project.
Dmitrii, how did you end up working for OneDrop?
I was looking for a job, I saw a post in a group on a social network in which the project was hiring postgraduate students to work in the CBC field. I took part in the selection process organised at the Peter the Great St. Petersburg Polytechnic University, I had a solid academic and working resume, over 20 publications… I was immediately hired and moved to Lappeenranta (Finland).
What is your role in the project?
As part of the project research activities, we are working to apply OneDrop technology on different uses, like purifying the ships' ballast water, or cleaning oil spills from the sea. My technical background made me choose the latter. I have developed an automated model to understand the behaviour of oil spills and remove them from the sea. The model gathers meteorological data and oil tracking systems data, assesses the thickness, size, complexity of the oil slick. I connected it to a system of skimmers – small boats – capable of collecting the oil. The innovation of this system is that it automatically gathers the relevant data, and it schedules the skimmer activities for a timely and effective removal of the spill – through chemical decomposition, collection, burning. It's a way to reduce the environmental impact of the oil spills and to save human and financial resources.
From your point of view, as a Russian living in Finland, what are the benefits of the OneDrop project for both territories?
Russia and Finland have a common border and living space, we share water areas, and this project is helping to fight common environmental challenges, mainly the contamination of water bodies. For example, the river Rakkola starts in Finland and ends in Russia: there are lots of complaints regarding the contamination of this river when it reaches the Russian territory. The Onedrop project gathered water samples from both sides of the river, these were examined in St. Petersburg State University (SPbSU) and treated with the novel water purification plant. This is only one example, the same was done at the Neva River, which goes along Russian territory and discharges in the Gulf of Finland. In any case, the model I am developing for cleaning oil spills in the sea, can be potentially implemented everywhere…
What do you think is the added value that young researchers can bring to the cooperation process?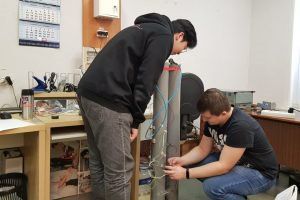 Nowadays young people have access to large amounts of information, we are exposed to many different experiences: studying abroad, working in different countries, adapting to various environments. This means that we develop different views, and approaches to challenges. When young people manage to absorb, accumulate and process all this knowledge, and apply it to one particular field, I think new ideas can be developed through analogy with adjacent areas. And this is very valuable.
Can cross-border cooperation can be a good field of employment for young people?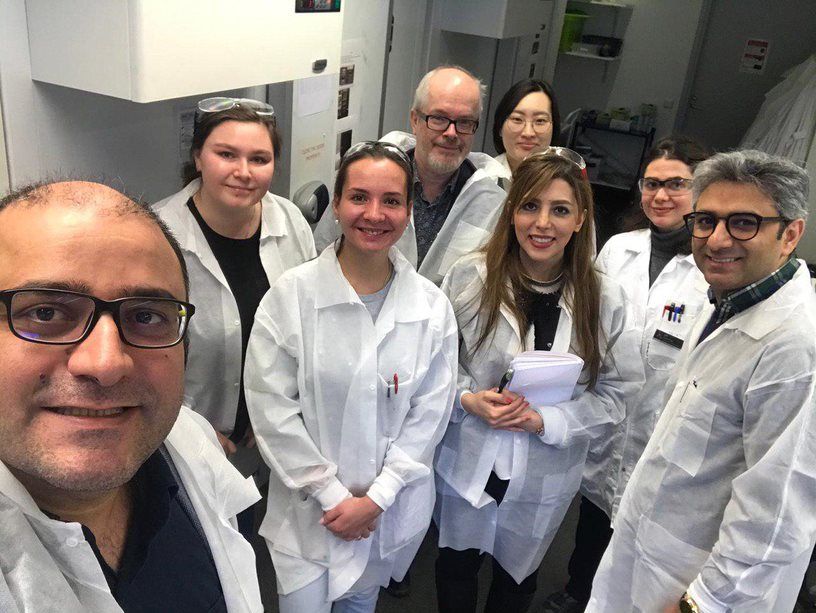 A CBC project can be an excellent start for a young researcher. My specialisation has quite a limited choice of jobs, so I must look for large projects. Cooperation projects – such as OneDrop – are broad enough to embrace many side-research areas, and hence create new working places and businesses. I have worked in an international project in Bulgaria, designing a control system for walking robots, which had many follow-ups. Then from this experience, I ended up working in India for another international project. Participating in international projects irrevocably attracts you to other ones. In the end, the positive aspect of working in an international team is the possibility to gather unique work experiences and to be able to access multidimensional projects.
What are your next professional endeavours? What is your ambition?
Right now, I am working with Hamid Roozbahani  – OneDrop project manager – on a new proposal that will help develop the model created within the OneDrop initiative. The concept can be further improved and applied with other methods to deal with oil spills. This new project will last two years and is implemented by the LUT University and some private Finnish companies. My ambition is to continue working in international environmental projects.
Dmitrii Motorin, 31 years old, is a young Russian researcher working for the OneDrop project (South-East Finland-Russia CBC programme). His alma mater is Saint-Petersburg Electrotechnical University. There he specialised in Technical System Control, particularly in Robot Control. He has worked in the research and production association Aurora, developing a management system for icebreaker ships along the North Route. Dmitrii has international experience: he studied a Double master's degree programme at the Technical University in Sofia (Bulgaria) and worked as a developer of tanker control systems in an international project in India. In 2021, Dmitrii defended his thesis on robot routing algorithms and obtained a PhD degree from the Peter the Great St. Petersburg Polytechnic University.